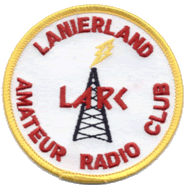 LARC Newsletters are published on a regular basis to keep the membership informed as to activities in the club. News or other items of interest for the "LARC News" should be sent to the newsletter editor.
This page contains an archived list of LARC Newsletters. The newsletters are in PDF format and may be opened and printed from this site. Locate the newsletter you want, click on it and Adobe Acrobat Reader will do the rest. You must have Adobe Acrobat Reader installed on your computer to view the newsletters. If you do not have Adobe Acrobat Reader you may download it free by clicking on the icon below:

The LARC newsletters are listed below with the most current issue first.
December 2009 November 2009 October 2009 August/September 2009
July 2009 June2009 May 2009 April 2009 March 2009 February 2009 January 2009
December 2008 November 2008 October2008 September 2008 July/August 2008
June 2008 May 2008 April 2008 March 2008 February 2008 January 2008
July 2007 June 2007 May 2007 April 2007 March 2007 February 2007 January 2007
December 2006 November 2006 March 2006 February 2006 December 2005/January 2006
November 2005 October 2005 September 2005 August 2005
[ Home ] [ Club Info ] [ Membership-Info ] [ Officers & Committees ] [ By-Laws ] [ Repeaters ] [ Logo Items ] [ Archives ] [ Newsletters ] [ Digital EmComm ] [ Activities ] [ Map to Meeting ] [ Photo Album ] [ Links ] [ VE EXAMS ]